Making money on Medium is easier than you think. You don't have to be a renowned writer with a degree in literature. You also don't have to have a huge following of readers.
In fact, I made over a thousand dollars a month with only 400 followers to my account. And all it took me was one article. The article I wrote under an hour while sipping white wine on a Thursday afternoon.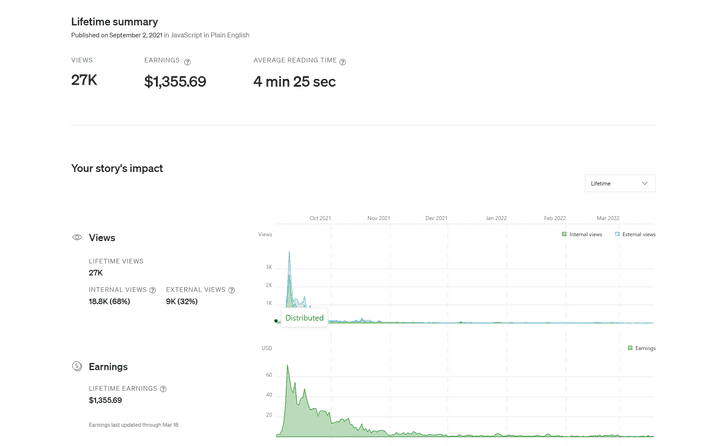 My earnings from 1 Medium article
If I could do it considering my conditions, so can you. All you need to have is a laptop, internet connection, and a story to tell. On top of that, you should also have 5 minutes of your time to read this article.
Because in this article, I'll tell you:
What is Medium
How to Earn Money on Medium
How to Turn Medium into Consistent Source of Income
I can already feel how excited you are. So without further ado, let's get started.
What Is Medium
To put it as simple as I can, Medium is a blogging platform. You can write about any topic you want, and if the audience is interested in it, they'll read it.
Medium is an open platform where readers find dynamic thinking, and where expert and undiscovered voices can share their writing on any topic. (source: Medium)
There are no requirements to start writing on Medium. All you need to do is to create an account and start writing. And here is the best thing. You don't need any fancy equipment to do so.
info
For starting a podcast, you need a microphone. To start a Youtube channel, you need a camera. But to start writing on Medium, all you need is your fingers, the internet, and any laptop.
As I said, writing on Medium is plain and simple. And in my humble opinion, anyone can do it. And for many years, Medium was just that, a simple writing platform. But everything changed when the platform introduced monetization, and that's where things got interesting.
How to Earn Money on Medium
A couple of years ago, Medium made a huge rework to their platform. They switched from a FREE model to a subscription-based model. This meant that readers could no longer access Medium content for free.
Nowadays, if you want to read Medium stories, you have to pay $5/month. The Medium platform takes these 5 dollars, and they distribute them to your favorite writers. Or in other words, they give it to writers you read most stories from.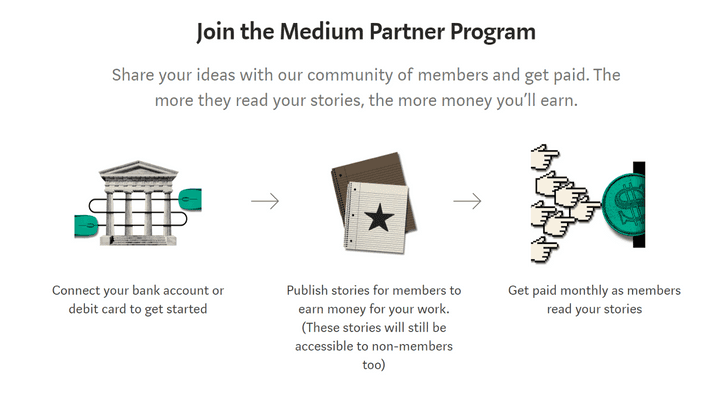 That's exactly how you can make money on Medium. You write an interesting story, and if people read it, you get a portion of their subscription fee. You as a writer can decide if you want to monetize your stories or not.
If you want your stories to make you money, you need to join the Medium partner program first. I know this may sound intimidating, but the requirements are very simple.
To join the Partner Program, you need to:
Have at least 100 followers
Publish at least one story on Medium
When you've met the requirements, you can apply to become a Medium partner.

Common Medium Misconceptions
When I was considering becoming a Medium writer, I did a lot of research on the topic. And what I found out really discouraged me. I read all the complaints. The platform is not fair, it's corrupted, or any other negative mentions.
But now, I know they were far from the truth. With that being said, let's discuss the common misconceptions about making money on Medium.
You Need to Write Hundreds of Stories to Make Money
When I started writing on Medium, I thought the same. And I see a lot of fellow writers do the same. They think you need to write as many stories as possible.
But this is so far from the truth. One quality story can earn more money than hundred garbage stories combined.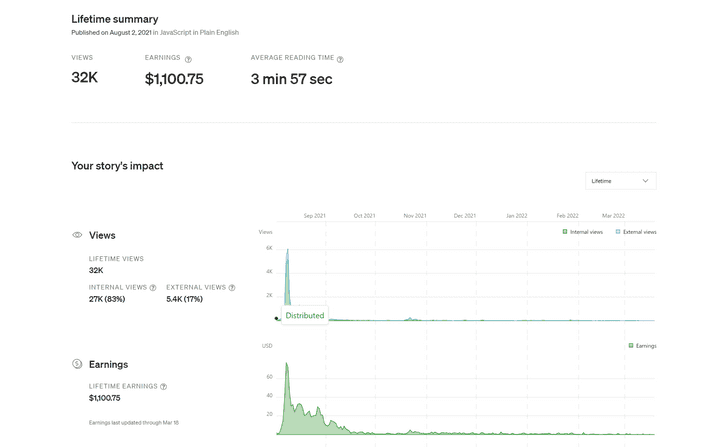 My earnings from 1 Medium article
You Need to Have Huge Following to Make Money
Another misconception which is just false. My stories reached a big audience, and I only had around 300 followers. It happened to me, and it happened to other writers as well.
Followers can help if you want your stories to perform well consistently. But they are definitely not required. As you can see, I still have only 700 followers and I make a decent income on Medium.

You Need to Be Exceptional Writer to Make Money
Do you need to write poems that will make your audience question their entire life? Nope! All you need to do is write simple, understandable sentences. We're writing for common folks, not for some literary committee.
To write a good story, you need to write plain and simple, while making sure your content is grammatically correct. Luckily for us, Grammarly can help us with all of that.
Crafting a Perfect Medium Story
Earning money on Medium may sound plain and simple, but to earn a significant amount of money, you need to attract as many eyeballs as possible. And to do that, you need to write a perfect Medium story.

Choose Interesting Topic
The best idea I can give you is to write about something that interests you. And at the same time, there are enough people interested in the same topic.
note
You can be very enthusiastic about the cars that ride underwater. But good luck finding someone else who gives a damn about them.
tip
You should always write about something that interests you, and at the same time, it interests others.
The most popular topics on Medium are:
Technology
Self Improvement
Business
Music
Social Media
Sports
Food
Travel
Art
Write Intriguing Headline
Now that you have your topic, you need to make sure that people read it. And to do so, you have to give them a title that catches their attention. And make them read your story.
Headline formats that work well on Medium are:
5 Things...
How to...
What Is...
How I...
I am...
Why I...
I...
Pick Awesome Thumbnail
Thumbnail is an image that will be displayed next to your story. You want to make sure it complements the headline. The good thing is that you don't have to create your thumbnails yourself. But use photos taken by others. Just make sure to credit the authors.
You can find good looking pictures on:
Choosing Right Publication
Publications will help you reach more users. If you don't have a following of your own, you can write stories for publications, and leverage their existing following. Using publications, we can leverage their existing following, and we still get to keep all the income. Awesome, right?
note
You can think of a publication as a library of articles focused on a certain topic.
To write content for a publication, you need to be accepted first. The good thing is that many publications are accepting new writers.
To find a good publication, I always follow the same steps: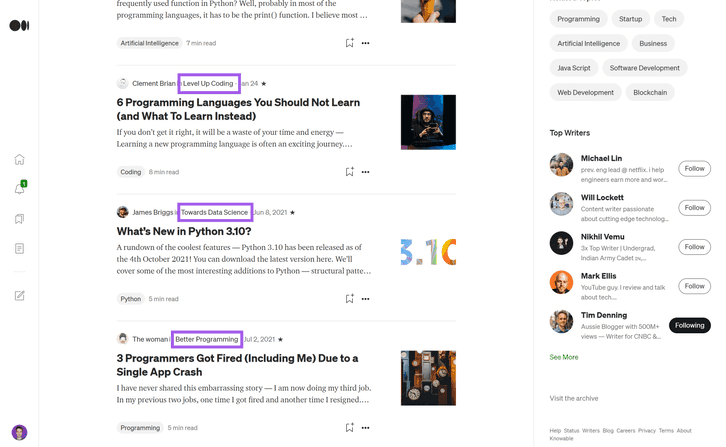 Finding Medium publications
Using this technique, we're making sure the publication has a good audience. And that it contains successful articles.
When you find the publication you like, go to their homepage and look for the instructions, or requirements to become a writer for them.
All that's left to do is write a story, polish it, submit it, and repeat the process. Repeat it until you write your first thousand-dollar article.
Writing your first thousand-dollar article is an important milestone for every Medium writer. It proves that your content is worthy to the readers, and it also shows that making money on Medium is possible.
However, not all of your articles will earn that amount of money. You can easily earn $2000 in one month and only $200 a month after.
But don't worry, there are ways to make income on Medium more consistent.

Making Consistent Money on Medium
Making thousands of dollars a month is perfect, but what's even better is to make thousands of dollars each month. After all, we want to build an income stream that we can rely on.
To make consistent income from Medium, you need to write quality articles, follow a publishing routine, and reach out to other writers. When you write consistently, you'll increase your followers count overtime. More followers mean more readers interested in your content, and more readers mean more money.
tip
When you're writing stories and you don't have a big followers count, you're relying on followers of a Medium publication, or Medium distribution algorithm. If you have followers of your own, you already have an audience interested in your content.
It's also important to start making connections with other writers in your niche. Read their stories, support them, and share your opinions about their stories. By doing this, you're gaining exposure to their audience. And are more likely to attract other readers.
Building a big following is an ongoing process and it won't happen overtime. It takes time and patience, but if you keep going, you'll get there eventually.
Concluding Thoughts
Medium is a great platform for writers to share their work, grow their following, and earn extra income while doing it. It's super simple to start, and a lot of fun to continue writing on it.
In this article, I quickly explained how monetization on Medium works, and how it's possible to make money on Medium.
All that's left to do is to take action, become a Medium member, and start earning your first dollars.